_
IEI Trainings are designed for mental health, behavioral health, vocational rehabilitation service providers, and mental health consumers. They are offered throughout *southern New Jersey. A wide range of topics from basic skills to advanced practice are available each season and are taught by experienced IEI staff.
*Currently, our trainings are being offered through Zoom and are open to anyone interested. 
Our trainings are split into prevocational and career services. These trainings give you the tools to facilitate preparatory activities for use with individuals or in a group setting.
There is no fee required for these trainings, however pre-registration is required. Registered participants will be notified in advance of any changes or cancellations via email or phone.
You can view the training offerings below. Offerings are updated seasonally.
Career Services Trainings:
These interactive trainings are designed for practitioners working in vocational services and other rehabilitation and behavioral health settings to improve career services outcomes. This series also includes trainings that cover topics and resources for employee and student wellness.
Currently these trainings are free to anyone, but in the future, there may be a cost to attend if you are out of the state of New Jersey.
___________________________________________________________________________________________________
Prevocational Services Professional Development:
This series is designed for NJ practitioners working in supported employment, supported education, vocational services, partial care/partial hospitalization, and other behavioral health and rehabilitation settings. The focus is on preparatory activities designed for use with individuals or in group settings. The series starts in the Fall and continues through the Spring of each year.
Completion of all modules in the Prevocational Series will result in a Certificate of Completion, which is required for mental health agencies by The Division of Mental Health & Addiction Services (DMHAS) and Medicaid.
NOTE: The Pre-Voc trainings are for New Jersey providers ONLY. Please do not register for these if you are from out of state. If you have questions, email us: iei@shp.rutgers.edu

Registration for the Pre-Voc Series Group is CLOSED.

NOTE: ONLY register for this series if you are a NJ practitioner!

This is a 12 session series from September to April. You will receive a certificate of completion when you complete all 12 sessions. This certificate is required for mental health agencies in NJ to ensure staff competency.
Registration for the next cohort will open up in Fall 2024.
September 5th, 2023
10 AM – 11 AM EST
Virtual Training

Attendees will examine the importance of recovery, explore the relationship of work and recovery, and identify empowerment strategies that promote work and careers.  Additionally, attendees will learn information to counter common myths about work and mental illness and describe the benefits and barriers of returning to work. 

All sessions from 10 AM – 11 AM EST
Virtual Training
The S1 communication series is inclusive of skills that are essential to know for the remainder of the series; it's important for attendees not to miss a part.

9/12: Part 1 – Relationship Building & Engagement
9/19: Part 2 – Active Listening & Reflecting
9/26: Part 3 – Readiness Development
10/3: Part 4 – Putting it all Together; Skills Application


October 10th, 2023
10 AM – 11 AM EST
Virtual Training

This session focuses on assisting job seekers with developing career goals and objectives. We'll review the importance of developing goals that are consistent with job seekers' interests, preferences, and career-related values as well as identifying the elements of SMART goals. Additionally, we'll practice developing SMART goals. Please come prepared with a goal in mind, either your own or a job seeker's, so that we can apply SMART goal planning during the call. We will also review strategies to include consumers as an integral part of identifying the information that should be included in the overall recovery and career goal planning. 

All sessions from 10 AM – 11 AM EST
Virtual Training

10/17: Part 1
10/24: Part 2 

This two-part (12 hour) session will explore employment development from a career-oriented perspective in order to assist people in achieving productive job matches.  It will include approaches to facilitate the process for people who are determining their values, interests, preferences, and in increasing their knowledge of the work world. 

All sessions from 10 AM – 11 AM EST
Virtual Training

10/31: Part 1
11/7: Part 2 

These workshops will look at supports from two perspectives. First, participants will learn why family members are invaluable resources and how they can engage family members through the vocational process.  Second, you will learn about community resources that are available to assist people with mental illness overcome barriers to work. 

All sessions from 10 AM – 11 AM EST
Virtual Training

11/14: Part 1
11/21: Part 2 

Explore employment for persons who experience both a mental illness and substance use disorders. These sessions will review the impact of alcohol and drugs on psychosocial functioning. Strategies for working with individuals with co-occurring disorders who are seeking employment will be reviewed. 
___________________________________________________________________________________________________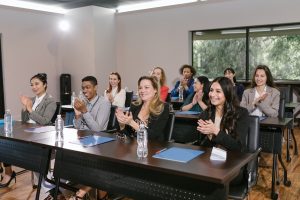 If you are unable to attend our regular training series due to work conflicts, we offer the following options:
Joining Your Team Meetings:

Our trainers can join team meetings at your organization and present on a scheduled topic.
Monthly Professional Development Seminar:

These can be scheduled monthly or as-needed. You have the option to choose one of our offered topics or work with IEI to create something custom for your organization.
Lunch & Learn: Get some skill and professional development in during your lunch hour.

For more information on any of these options, email us at

iei@shp.rutgers.edu